Facials
What is facial? A luxurious, but relaxing treatment. Every skin type can benefit from it. It is truly an investment in your skin. Every facial is different and customized to you.
Some of those benefits consist of:
Correcting hyper-pigmented skin & dark spots
Smooth and improve skin tissue
Helps prevent visable sights of aging
Surge of hydration for skin
Improves and plumps skin
Click Above to Learn more about Comfort Zone Skin Care!
Our mission is to promote a holistic, soulful, healthy and sustainable lifestyle,
with advanced science-based conscious solutions to visibly improve skin, body and mind.

The ORIGINAL chemistry that multiplies bonds and cross-links broken bonds. There can only be one!
A single ingredient chemistry, that is free of silicone or oils, that links broken bonds in the hair during and after chemical services making them stronger than they were before.
Ask us next time your in for the chemical service. We would love to give you the Olaplex experience!
Don't be a Brunette with Blonde Hair!
How to Change your make-up with your hair color!
One of the most commonly overlooked aspects of a hair color change is the makeup update. Drastically different hair calls for different makeup as well. Which is actually (in my eyes) one of the most exciting things about it! A whole new world of colors and intensities are opened up to you.  TRY SOMETHING NEW WHILE YOU HAVE THE CHANCE! Even if you don't love the new do, get the most out of it you can. You might find you like it a whole lot more than you think and instead of being brunette with blonde hair, you can actually just be a blonde for a while!
First-Eyebrows
Your naturally dark but going lighter, You can rock the dark brows with light hair. It is stylish, or fill your eyebrows with a  shade that is slightly lighter than your  natural brow. It will soften them up and create a natural look.
If you are die-hard about them blending in. Then You can bleach your eyebrows and color them the color that matches. Make sure you have a professional do this.
Your naturally lighter but going darker, You will need to fill those babies in. You can use a primer, angled eye shadow brush and a eyebrow filler.
Second- Intensity
If you are naturally very dark by nature and you go much lighter  it's likely to wash you out. You'll want up your intensity of eye makeup and bronzer or blush. It works the same way if you are the opposite. Although  some people have a much different experience. The best way to test this is to go too far. Add too much makeup so you know what too much is, if you are always erring on the side of too little you may never reach the sweet spot. If you make yourself look like a street walker wash that gunk off and start over. Now you know when to stop next time. No harm done.
Three-EXPLORE
It's mostly about getting in there and doing some exploration. Try some new looks that before never looked right.  Get to that makeup at the bottom of the drawer that you bought and decided wasn't for you and give it a shot. Try rocking paler skin or a darker tan. Have fun with it!

Tired of your red hair always fading?
Do you want your natural red to be more vibrant and shiny?
Pureology has the answer..
Check out their line:

Reviving Red
Oil-infused formulas revitalize and replenish red & copper shades on your hair,while providing extraordinary color protection.
The triple-action micro oils including jaljala oil, provide the color protection and
nourishment.
Encapsulated Lycopene helps fight oxidation and color fade from free radicals to maintain your hair color's vibrancy even after 30 washes.
The signature Aromatherapy is a blend of Bergmot, Black Current, Mandarin, Rose, basil and Musk.
The shampoo is a Shamp'Oil,
* which is Zero-sulfate, Zero-silicone concentrated-oil formula.
*It will maintain vibrancy and replenishes hair's protective lipid layer to seal the cuticle and help reduce color fading.
The Conditioner
*Detangles
* Restores the hair fiber
* Intensifies light reflection for increased vibrancy and shine
Illuminating Caring Oil
*Concentrated but lightweight formula
*Seals the cuticle and leaves hair smooth and supple
* Softens and prevents frizz
* Enhances vibrancy and richness
Saved the best for last!!!
Red & Copper Reflect Enhancers
Color-depositing, replenishing conditioners
Red reflect infuses hair with red tones between salon visits
Copper Reflect infuses hair with copper tones between salon visits
Helps maintain your vibrancy while adding shine!
Like us on Facebook to see our offer on Reviving Red Products for the month of September!
Pureology's Super Smooth
Advanced Smoothing Micro-Emulsion Technology
* adds softness and moisture to tame frizz and fly-aways
Camellia oil, sesame oil, and shea butter smooth while geranium extract deeply conditions to increase manageability!
* Humidity-resistant formulas lock in moisture and lock out frizz
Signature aromatherapy blend of raspberry, jasmine and cocoa powder!
Shampoo:
Concentrated and smoothing shampoo
Gently cleanses and tames with a rich lather
Condition:
Detangles, smoothes and replenishes
Smoothing Cream:
Leave-in conditioning cream
Helps control frizz and unruly volume
Adds long-lasting smoothness and style memory
Relaxing Serum:
Lightweight serum
Smoothes and eliminates frizz and fly-aways
Adds long-lasting smoothness and style memory
Reduces blow-drying time
Relaxing Hair Masque:
Concentrated nourishing masque
Subdues frizz, softens and boosts shine
Like us on Facebook to see our offer on Super Smooth Products for the month of August!
Special on your Perfection Smoothout System this Month! Call today to schedule!
Pureology's Strength Cure
Luxurious formulas to help repair and strengthen hair for the perfect balance of strength and softness.
97% Improved strength after only 1 use of shampoo, conditioner and split end salvage.  The product replaces our cysteine bonds in our hair strand to restore that well needed strength. Gentle enough to be used everyday!!!
The signature aromatherapy blend of
Lavender, Honey, Peach & Vanilla!
Tons of benefits from each product!
Strength Shampoo
*Concentrated fortifying shampoo
*Removes dulling residues with maximum respect for the sensitized cuticle
Strength Condition
* Concentrated daily conditioner
* Instantly conditions and detangles
* Improves hair's touch and light reflection
 Fabulous Lengths 
* Luxurious fortifying serum
* Helps strengthen the hair fiber to reduce breakage
* Brings softness to even the oldest of strands
Split End Salve
* Leave-in Split-end smoothing treatment
* Helps strengthen,  smooth split ends and prevent further damage
* Shiny results
* Restorative Masque
* Intense fortifying masque
* boosts strength and reduces breakage
Like us on FACEBOOK  to see our offer on Strength Products for the month of July!!
Dry Scalp vs. Dandruff
      
Many adults are struggling with this somewhat embarrassing issue.
Many of you are commonly mistaken your dry scalp for dandruff.  There is a difference between dry scalp and dandruff, and you  could be making either of them worse by not being diagnosed properly. Dry Scalp can start with an easy change in temperature, humidity or with dehydration.  Dry scalp is white in color and sheds off your scalp in small pieces.

Dandruff on the other hand is accompanied by three factors;  your skins oil  also referred as sebum.
A fungal and/or bacterial infection, and your individual susceptibility. Dandruff is white or gray visible flakes that are sometimes large in size with an oily feel. The Fungal that is responsible for the irritation of the scalp is yeast like called Malazzezia.
You should receive a doctors diagnosis for your Dandruff. Many over the counter Dandruff shampoos could be too harsh on your scalp if you are really just experiencing dry scalp.
A shampoo to try for dry scalp and dandruff would be one that contains tea tree oil. The tea tree helps with the dry skin, but it also has a natural anti-bacterial & anti-fungal properties. If you use just tea tree essential oil make sure you dilute it with water or put it in your shampoo. Make sure you are disinfecting your combs, brushes, styling tools, and even hats. This can help limit ex poser  to the fungal  bacterial over and over.
To help eliminate some flakes with your dry scalp use a brush with bristles that are close together, but not to stiff. Start at the hairline and work around your head with the brush to your scalp. It will help loosen the dead skin cells that are ready to shed off. Make sure you get your whole head. Try right before you take a shower so you can wash away those loosen dead skin cells.
Drinking plenty of water to help re-hydrate your body will do wonders for your hair and scalp.
Spring into a lighter change!
The trend of changing the hair color according to the seasons has at least one benefit:
      During the winter months, since most people spend the majority of their time indoors, and the periods of daylight are significantly shorter, people grow paler and the hair returns to its natural hue since there isn't as much sun exposure. 
Of course, during the summer months the skin grows darker from tanning and the hair lightens.The resulting changes in skin and hair color are complimentary. Lighter hair compliments tanned skin,and darker hair colors are complimentary to fairer skin tones.
  The natural color of the hair also plays a part in the seasonal color changes that take place, as different colors of hair will shift in different ways when exposed to the seasonal lightening factors. Hair in the blonde spectrum will tend to get blonder and paler, brightening to a yellow-gold tone, while darker hair colors most often lighten to reddish and orange tones. Sometimes these natural color shifts aren't as pleasing as we hope, which is why many have taken to having their hair lightened at the beginning of the spring or summer months.
     When looking to lighten your hair for Spring and Summer, try to keep your change within 3 light levels of your hair's natural color. The less drastically you lighten the color of your hair the less likely you are to damage the hair as much. The dramatic lightening processes that are sometimes resorted to not only remove the color of the hair, but destroy the hair's integrity and make the hair more porous. 
        To help with the integrity of your hair and to help your blonde last longer use a Purple Shampoo. Over time the color can turn a hot shade of mellow yellow. It's hard to get excited about your hair when the tone is off. Purple is exact opposite of yellow on the color wheel, which is why it cools.
        When you first start using purple shampoo, use it every other time you shampoo and then adjust your usage from there. If you find that it's still brassy, start using it every time you shampoo. If you see it starting to get just a touch too ashy, slow your usage. If you're all over blonde, apply a good amount of purple shampoo to the root and let it run out through the ends as you lather and rinse. Typically the top of your hair is more golden/brassy than the ends so you'd want the most concentrated amount up top. The ends are more porous and will grab the color faster so it doesn't need to stay on the ends as long. Just let it drizzle through the ends and they will catch the color. If you're not a blonde but have blonde or caramel highlights on hair that's darker, you'll want to only apply purple shampoo where you have lightened hair. You can always shampoo your hair with something else up top and then apply the purple toning shampoo to the lighter bits that tend to get brassy. If your hair gets really yellow, let the purple shampoo sit on for 5 min. If you're just fighting a minimal amount of brass, a minute or two will be sufficient. 
     You can always shampoo twice– once using your regular shampoo to get your hair clean or your scalp taken care of and then once with the purple to tone. If you have a medicated scalp shampoo or just a shampoo that you can't live  without.
  Let Purple lighten your spring this Year!
Sulfate Free Shampoo Vs. Sulfate Shampoo
      Sulfate Shampoo contains an inexpensive filler called Sodium lauryl Sulfate (SLS). It is very popular in many items we use today.We find it in many of our cosmetics, soaps, lotions and household cleaning products as well. (SLS) is responsible for the cutting grease and the lather we create when shampooing our hair. Many of us associate bubbles with clean. which isn't always the case. The sulfates can leave the hair stripped of it's natural oils and damage the hair follicle that can eventually develop into dry brittle hair or even hair loss.
Sulfate free Shampoo uses more desirous ingredients such as glucosides and gylcerine. Glucosides are derived from plants like sugar cane. Glycerine,  also an organic compound, is a byproduct of animal and vegetable oils and is a colorless, thick liquid. Baby shampoos uses deyl glucoside because it is very mild.Coco glucoside, an additive derived from fruit sugar and coconut oil is also a popular glucoside additive used in many skin care products.
When first using a sulfate-free shampoo, most people  often feel as if their hair is not getting clean because sulfates are responsible for creating that thick, rich lather that many people desire when shampooing.
This can take some getting used to because the hair will not feel as dried out, and some users may associate that stripped feeling with being clean. The hair will be clean, but will be softer and silkier.
To Lather Or Not To Lather….  
The idea of washing your hair is to clean your scalp.
Emulsify a quarter-sized amount of shampoo in your hands by rubbing the product between your palms. Apply the shampoo to your scalp using your fingertips and work the shampoo vigorously into your scalp for about 30 seconds. Make sure you work the shampoo into your entire scalp. Especially the back.A lot of people wash the tops of their heads, but neglect the back. It can get awfully gunky back there if missed a few times.
If you hair is very long, try bending over and tip your head upside down for easier access to the back (you may need a little more shampoo when you do this).
Try to focus less on the lather and more on working the product into our scalp. Make sure you rinse thoroughly, at least for 30 seconds. Try singing your ABC's twice while working your fingertips through your hair.
 Learn How To Fake it:  
Big Night Out? False Lashes can take your pretty lashes to the next level of pretty amazing.  Here are some quick tips on applying false lashes to achieve that pretty amazing look. A quick tip to know before you start: Put falsies on after finishing your shadow and liner. 
STEP 1.) Using tweezers, hold the strip where your own lashes start at the inner corner of your eye. If there's  any excess at outer corner, trim off
STEP 2.) Holding the strip with your tweezers, apply a very thin (nearly nonexistent) coat of glue straight from the tube. Swipe your finger over the strip to smooth and remove any excess.  Globs of glue are a dead giveaway that you're wearing falsies.
STEP 3.) Wait 10 seconds, then place the strip at the roots of your own lashes with the tweezers. Don't stress if you make a mistake. Simply use your fingers to remove any glue and go back and repeat step 2. Now repeat Steps 1-3 on your other eye
STEP 4.) After two minutes, clamp with an eyelash curler. It will help your natural lashes blend with the false ones. Seal with mascara.
Now your ready for a big night out! 
Quick tip for removal: Wet a cotton swab with hot water and run along the lash band to soften the glue. You'll save your natural lashes.
Be Educated on Lice For New School Year
Its that time again… Back to school! Now that everyone is back into the swing of things and in a routine again, I'd like to take a minute to talk about something no one wants to talk about. The dreaded word….LICE! I hope no one will have to worry about this subject for themselves or their family but I'm sure you'll all agree its best to be informed. So take a minute to read through and get acquainted with what to look for, how to get rid of and prevent lice in the future.
What are they?
Lice are tiny parasitic insects that live on humans and feed on blood. When a large number of lice live and multiply on a person, it is called an infestation. Lice eggs are laid at the base of the hair shaft within a couple inches of the scalp. The eggs are firmly stuck to the hair and are not pulled off easily.
Lice infestations are not caused by unsanitary conditions. Lice spread easily from one person to another through close contact or through shared clothing or personal items (such as hats or hairbrushes). A louse cannot jump or fly. They do not cause disease, but are very irritating.
Appearance
Lice eggs are oval-shaped. They are about the size of a knot in a thread–very small. Many times, nits can be overlooked. They are yellow, white or silver in color and can easily blend in with the hair color of their host.
Symptoms
The most common symptom of lice is itching. There are different symptoms, depending on which type of lice you have. Head lice may not cause any symptoms at first. Itching on the scalp may start weeks or even months after lice have started to spread. Scratching can make the skin raw. The raw skin may ooze clear fluid or crust over, and it may get infected.
Pubic lice cause severe itching. Their bites may cause small marks that look like bruises on the torso, thighs, or upper arms. Frequent scratching can cause a skin infection. In the most severe cases of head lice, hair may fall out, and the skin may get darker in the areas infested with lice.
Hatching
Under normal conditions the eggs will hatch in seven to 10 days. The young lice which escape from the egg must feed within 24 hours or they will die. Newly hatched lice will periodically take blood meals and molt three times before becoming sexually mature adults. Normally a young louse will mature in 10 to 12 days to an adult (1/8 inch in length). Adults range in color from white to brown to dark gray.
Female lice lay six to seven eggs (nits) per day and may lay a total of 50 to 100 eggs during their life which may last up to 40 days. Adults can only survive one to two days without a blood meal. The nymphs and adults all have piercing-sucking mouthparts which pierce the skin for a blood meal.
Visual Examination
During a visual exam for head lice, the hair on the head is parted into small sections so that the scalp can be seen. Have you doctor or parent looks for tiny live lice. It may be helpful to use a handheld magnifying glass or have another person help you. The doctor may use a special light called a Woods lamp in a darkened room to see the lice better. Lice move quickly to avoid light, so they may be difficult to see.
Eggs (nits) are small and white or light brown. They are usually found on the hair shaft close to the scalp. They do not slide up and down the hair shaft.
If eggs are found farther from the scalp, the person may have been infested with lice for some time. If the eggs have already hatched, the empty egg cases may appear white.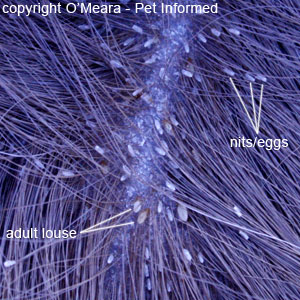 Removal
Lice won't go away on their own. Be sure to do all you can to treat lice and to prevent the spread of lice. Once an infestation is detected all clothes should be washed in hot soapy water. Pillow cases, sheets, blankets and other bedding material should also be washed and placed in the clothes dryer on "high heat" cycle to kill the lice and their eggs. Any non-washable items such as children's toys should be tightly sealed in plastic bags for at least seven to 10 days to kill adult lice. In conjunction with the proper products you will also need to thoroughly comb through the hair, pictured below, to physically get the lice and nits off and out of the hair.
Chemical Control
Chemicals are available as prescription or non-prescription drugs to control lice. Over-the-counter products which should be effective include those containing permethrin or pyrethrins (pyrethrum extract) as active ingredients. These drugs are available as creams, lotions, or shampoos. Shampoos are preferred for control of head lice. The application of these insecticidal drugs will kill nymphs, adults, and some eggs. Eggs killed by treatment as well as unaffected eggs may remain attached to hair shafts and should be removed as soon as possible. To remove these eggs it may be necessary to do some "nit-picking" utilizing a special fine-toothed lice comb. Combs and other tools used to remove lice should be soaked in a lice killing solution such as rubbing alcohol after use.
Use of lice sprays to treat objects such as toys, furniture, carpet etc. is not recommended because lice cannot live off the host longer than a couple of days. The same holds true for classrooms. Use of these products is considered ineffective and unnecessary.
Cream and Shampoo products include:
Pyrethrin-Containing Products (kill in 10 to 12 minutes, but have no residual activity which means more than one application may be necessary)
Rid Liquid
R & C Shampoo
Licetrol
Pronto (0.33% Pyrethrins and 4.0% Piperonyl Butoxide)
A-200 (0.33% Pyrethrins and 4.0% Piperonyl Butoxide)
Clear (0.33% Pyrethrins and 4.0% Piperonyl Butoxide)
Permethrin-Containing Products (kill in 10 to 12 minutes, activity lasts up to 10 days)
Nix (1% Permethrin) no prescription necessary
Elimite (5% Permethrin), prescription necessary
** Careful attention should be given to follow directions on all product labels.
Products Not Recommended due to Reports of Potential Side Effects.
Ovide (0.5% Malathion), (Product available through prescription only)
Kwell (1% Lindane), (Product available through prescription only, not recommended due to various reports describing adverse effects including seizures)
What is the difference between high lights and low lights?
I get this question pretty often. The answer is pretty simple. Highlights basically brighten your hair by adding colors that are 2-3 shades lighter than your natural color and low lights use colors 2-3 shades darker than your natural hair color. Colors used for highlights can range from golden, honey, beige or platinum shades. For a more blended natural blonde its recommended to use 2-3 varying shades of both high and low colors.
Low lights do the opposite by adding slightly darker colors that blend with your hair's tone. Low lights will deepen your hair color and can range from medium or dark browns for naturally lighter hair to deep reds, dark browns and plum shades for naturally darker hair. You can also use more than one low light color to add more dimension to your hair.
For someone with already high lighted or naturally blonde hair, using a dark blond colored low light is a great way to add dimension and depth and can still be paired with your favorite high light colors. Low lights on already dark hair can either make your natural color "appear" to be the highlighted color for easy maintenance coloring or can be paired with a fun red, copper or violet tone to add vibrancy and shine.
When thinking about highlight and low light hair color ideas, keep the season in mind. Go a little darker in the winter for a softer autumn look and skin is lighter. In the summer is the time to go lighter for a fun summer "sun kissed" look.
High lighting and low lighting  techniques get complicated, it's  always best to consult a professional for these hair color ideas.
For questions or appointments call us at Envy Salon-Where we love every hair on your head!